"

I know that

Ellsworth [Kelly]

says [his work] comes from nature. But I don't know why you'd want to say this, because art relates to perception, not nature. All abstract artists try to tell you that what they do comes from nature, and I'm always trying to tell you that what I do is completely abstract. We're both saying something we want to be true. I don't think artist like myself, or Ellsworth, have the faintest idea what we're doing, but we try to put it in words that sound logical." -

Roy Lichtenstein in Portraits by Michael Kimmelman.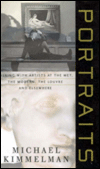 I'm reading the book
Portraits: Talking with artists at the Met, the Modern, the Louvre and elsewhere
by New York Times art critic
Michael Kimmelman
. In the book, Kimmelman goes to the art museums named in the title of the book, with well known, older contemporary artists such as
Elizabeth Murray
,
Roy Lichtenstein
,
Lucian Freud
,
Henri Cartier-Bresson
,
Jacob Lawrence
and
Chuck Close
, taking notes while each one talks about art that interests them. It's a great read and gives much insight into how the artists see and relate to historically important works. The artists also talk about their own lives and work. What strikes me in reading the book is that the artists' commentary is always so highly
personal
and
subjective
, underlining the notion that it is your own subjective perceptions and inner voice that are most important when you look at and think about art. To some degree, I also think that, as an art critic, Kimmelman underlines the essential personal nature of art criticism by letting artists speak for themselves. In
this interview
with Charlie Rose, Kimmelman talks about the book and why he wrote it.