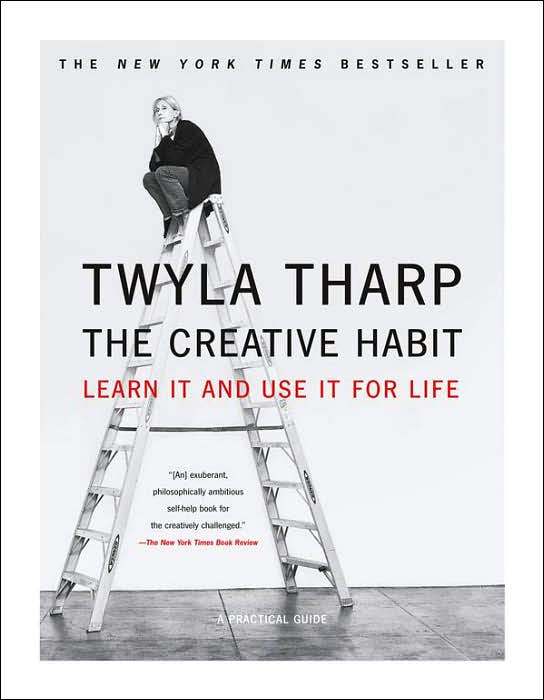 "It's vital to establish some rituals -- automatic but decisive patterns of behavior -- at the beginning of the creative process, when you are most at peril of turning back, chickening out, giving up, or going the wrong way...Thinking of it as a ritual has a transforming effect on the activity. Turning something into a ritual eliminates the question, Why am I doing this?"

"In the end, there is no one ideal condition for creativity. What works for one person is useless for another. The only criterion is this: Make it easy on yourself. Find a working environment where the prospect of wrestling with your muse doesn't scare you, doesn't shut you down. It should make you want to be there, and once you find it, stick with it. To get the creative habit, you need a working environment that's habit forming. All preferred working states, no matter how eccentric, have one thing in common: When you enter into them, they impel you to get started." -Twyla Tharp, The creative habit, Learn it and use it for life

This book has got me thinking about the physical part of creating a body of work. By this I don't mean doing the work. I mean placing yourself in time and space, on a regular basis, in a way that will optimize the probability of getting something done. In a recent post I wrote about
setting some goals
for my quilt making over the next two years. One of my goals is to set aside a certain amount of time each week to work. My big push for the next year will be to develop a creative habit. Since I am a morning person this would logically mean working in the morning. I think it would look something like this:
5-7 AM: Get up and do one hour of back strengthening exercises and Pilates on the ball.
Eat breakfast
Work. This means creative work e.g., designing, dyeing, piecing, or quilting, nothing else. Can probably work for up to four hours depending on what time I get started. Break for lunch.

I could afford to do this three weekdays a week, and one weekend day. It would mean paying someone to play with my kids between 8:00 AM (when my husband leaves for work) and lunchtime, three weekday mornings a week. Then, getting my husband to commit to giving me one weekend morning each week.
In
The creative habit
, Tharp includes exercises throughout the book. In one exercise she gives a list of questions which are to be answered, quickly and instinctively in order to provide a kind of self-appraisal to the reader of her creative identity, that is, what kind of creative work is the reader most compelled to make, what point of reference is she most inclined to take, from what distance, and so forth. One of the questions was: "What is your ideal creative activity?" For me, two answers came to mind simultaneously: -- creating an image and -- creating a functional object. It occurred to me that here is one of the core reasons that I love to make quilts: because they encompass both of these creative activities. Wish me luck instilling a creative habit.